I am a pretty stubborn Virgo.
Today, streaming music are all over the place and Spotify or Apple Music or KKbox will have all the songs you wanted. Even the Mandarin and Cantonese Pop, which was not the case years ago. Many people I know (even uncles of my age) are no longer listening to any MP3 files but uses 100% streaming music.
Not for me.
These music streaming services still do not replace my own FLAC collection which I continue to painstakingly collects whenever a new album comes out. Ripped. Clean. Update. With. Album. Art.
In addition, I am still regularly updating my iPhone with my MP3 (reduced from my original FLAC files) and using the "Music" app on my iPhone for my jogging or plane rides. I seldom listen to Spotify and Apple Music. Paid for them but very seldom uses them.
Especially they are still, sometimes, having the wrong album art or simply play a song with a "best of" compilation album art. Ridiculous.
I am a stubborn old man. Very stubborn.
However, very recently, I had to give up on one of my traditional album art demands 🙂
For those who know my style of collecting and preparing a MP3 file, I have written about those steps in a series of posts many years ago.
My important rule in the past
One of my stubborn rule was never ever to use a song if it does not belong to an popular and released album. I need to know which is the first album that the song has appeared in an artist's life and then use the album art (and the associated MP3 tags such as album, year etc) for that song. I might have actually ripped the song from a "Best of …. " album (commonly known as a compilation album) but when it goes into my MP3 library on my iPhone, it needs to be associated with the original album it was first on.
Never mind that I don't own that first album.
The problem is in recent years (when streaming music are more and more common) is that artists no longer necessarily produces a full album anymore. They might release one song on the internet (Spotify or Apple Music or some Chinese streaming music) and that's it. They might never ever release the song in an studio album anymore. When that happens, there is no album for me to associate that song to and no album art too !!
That also happens a lot for TVB theme songs. I might love a song but I have to wait till a whole album for TVB songs are out. An example of such albums are these.
Sometimes it is not so bad as the singers produces the songs in a later released full album. These are usually the case for artists like 菊梓乔 and 谭嘉仪. So no issues with songs from them. I just need to wait.
But it is not always a given.
And so over the years, I have liked a lot of songs but they are not in my MP3 collection on my iPhone. They don't have an album. Hence they don't have an album art. They might even be a "single" (but single does not always have a proper album art too). And hence they don't qualify to be in my iPhone. If I want to listen to the song, I go to Spotify and listen to that one song.
But no… no full studio album, no talk.
Told you I am stubborn. Stubborn old man.
I have to change in 2020
But that has changed too. It is year 2020 too.
I will give you an example.
In the TVB show, 金宵大厦, there are two versions of the song, 今宵多珍重. One is Cantonese version sang by 谭嘉仪 and there is also a Chinese version sang by Vivian Koo 谷婭溦.
Ok. For the Cantonese version by Kayee, I can wait. I waited for quite a while and finally it appeared in her latest studio album, Can You Hear.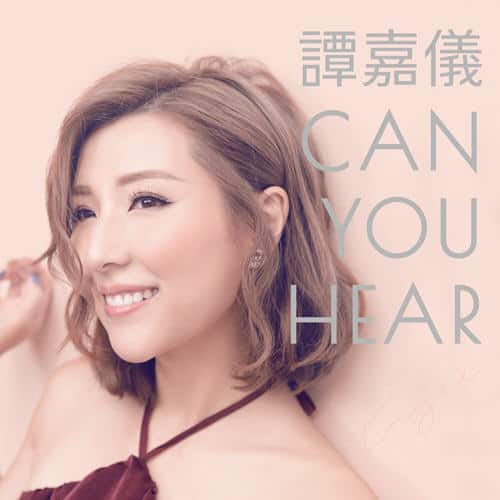 I waited quite a while and had to go to Hong Kong before I saw the album for sale. Bought it and ripped it and finally a song I liked so much is in my iPhone. All because it does not have the full studio album. Yet.
Ok. But what about Vivian Koo 谷婭溦 version. 谷婭溦 is an up and coming singer who is singing a lot of TVB songs. But I don't see any albums yet. Not yet. Maybe one day. Who knows. Should I wait.
Finally i give up this year. I added the song to my MP3 collection and used the only proper album art cover I can find for it.
This is killing me. This is not a proper album. It is not even a single. The album art is not even a real album art !!!! It is just a song that is released on the streaming music or YouTube. That's it.
But as more and more such songs appear in this way, I have no choice but to accept this.
If not, I will not be able to listen to her song on my iPhone. Or this song, 月亮代表我的心 from TVB show, 黄金有罪. Will TVB ever release an album. I don't know.
(Update in Dec 2021: Yes she did released her album.. see see !)
谷婭溦 哭墙
Or this song, 你比我重要 by 吴岱融 in TVB show, 牛下女高音. At least for Vivian, there is a chance her album full of TVB songs might come out one day but I am pretty sure for this song by Mr 吴岱融, I am depending on TVB to do so. And recently TVB does not seemed to be releasing the TVB songs in album.
Similarly, for 吴若希 別再记起 in TVB show 夸世代. I give up. I just add the song to my iPhone and uses this album art cover. Hopefully one day 吴若希 will release this song in her studio albums as she is a professional singer with many albums.
I ended up watching this song often on YouTube as it featured my most favourite Ali Lee 李佳芯. What. A. Babe.
But yes, in the end, I added to my MP3 library with the above single album art cover. Give up.
Not a real album art. Uuurggghhhh.
Even Jay Chou !!
And you think it is restricted to TVB ? No… even Jay Chou… I am sure an album will be released in the future that contains these two songs.. but for now, what are my choices ? Not in my iPhone or just put them in with not the actual album arts and wait…
Update in Sep 2022. He did released his album with the above songs ! 🙂
周杰伦 最伟大的作品 Official Album Art
End of Story. Change is Good.
So end of the story. Because I give up on this one rule, I now have quite a few songs that I wanted to listen to (on my Music app with MP3 songs) that I would otherwise not get to if I have waited and waited. Till death.
Here's an example of my iPhone play list with these songs. A year ago, they would never be there.
Change can also be good.
Virgo or stubbornness otherwise 🙂